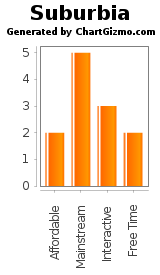 So, like I said earlier, my four main concerns for the green hill are:
Affordability
Mainstream
Encourage interaction
Provide free time
So how does bofællesskab/cohousing measure up on these? Let's see.
Affordability
From what I've read, a home in a bofællesskab costs about 10% less than a comparable suburban home. The shared facilities mean that the individual homes can be smaller without feeling cramped or isolated, and external parking reduces the cost of land since you're not paying for roads and driveways. However, home ownership is costly, and it's cheaper to rent an apartment than it is to buy a home in either a suburb or a bofællesskab.
Mainstream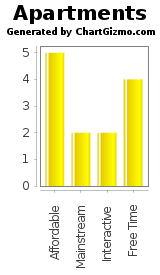 Mainstream is kind of hard to define, but for me it means "the kind of place you'd dream of living". So I rated apartments low, since most people don't dream of spending the rest of their life in an apartment. Suburban homes are the epitome of mainstream living in America. Bofællesskab aren't mainstream in the sense that they're mostly unknown, but they look a lot like a cross between condos and suburbs, so I think the image is mostly positive.
Interactive
This is where bofællesskab really stand out. Apartments put people physically close to each other, but they don't have the long-term occupancy that builds relationships like neighbors in a suburban neighborhood can create over years. The bofællesskab combines the stability of owner-occupancy with the physical closeness of apartments, and adds facilities and activities that are intended to promote interaction.
Free Time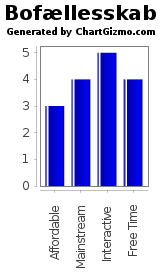 Bofællesskabs give free time by bringing you within walking distance of the people and facilities that you would normally have to drive to visit. Many bofællesskab residents comment on how easy it is to swap babysitting with neighbors, giving parents of young children time for errands and recreation. Community dinners also give back the little extra time each day that is usually spent preparing meals.
It's pretty easy to tell where my bias lies. I'm pretty excited about these cohousing communities. I think they're a great idea, a solution that addresses both the practical needs of daily life and the ideals of meaningful relationships and lifestyles. How does it sound to you? What do you want to get out of your housing and your community?